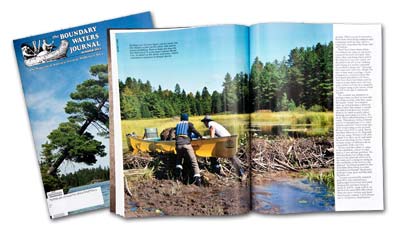 Over the past 21 years, The Boundary Waters Journal has helped thousands of our readers find the best 5-Star campsites, catch more fish, see more wildlife and discover real wilderness adventure. We can help you too. Every 108-page quarterly issue is packed with exclusive northwoods savvy from canoe country experts. Loaded with beautiful color photography and valuable trip planning advice, Boundary Waters Journal delivers all the inspiration and information you need to enjoy the ultimate wilderness experience. Get serious about pursuing your own canoe country dreams.
SUBSCRIBE TODAY. Sharing our love of the wild is what we are all about at The Boundary Waters Journal.
The secret to enjoying great BWCAW/Quetico wilderness canoe trips is the right planning and research. The Boundary Waters Journal is the #1 resource for super-detailed trip planning information. Check out some of these feature articles from past issues of The Boundary Waters Journal. A subscription to BWJ is the best investment you can make in your next trip to the canoe country.
---
Boundary Waters Journal Sample Articles:
Canoe Route Journals: First person trip reports.
---
Campsite Evaluations: Detailed descriptions/rankings for campsites on specific lakes are featured in each issue. Find great Quetico sites not marked on regular maps and the best 5-Star campsites.
• BWCAW: Fourtown Lake
• Quetico Lakes
---
Fishing Advice: How, when, where: Canoe country's best anglers and guides share their secrets on how, when and where to enjoy wilderness fishing action.
Note: All active BWJ 3 and 5 year subscribers qualify for our FREE BWJ T.R.I.P.S. Program which pin points the best places to fish each species on the lakes along your chosen route. This BWJ exclusive for loyal subscribers will put you on the best canoe country fishing fast. Subscribe NOW and let The Boundary Waters Journal guide you to your wilderness fishing dreams. For more on BWJ T.R.I.P.S. Program.
---
Canoe/Camping Equipment: Field test reports on the best gear for canoe country.
---
Wilderness Tripping Savvy: How-to advice on paddling/portaging/camping/cooking.
Wilderness Essays:
• A Vision To Behold
• Time Out Of Mind
---
Conservation/Wilderness Management:
• Quetico Baitless
• A Conversation With Sig Olson
---
Canoe Country Wildlife:
---
Canoe Country Ecology:
---
Canoe Country Adventure:
• Judgement Day On Gabimichigami
• Rendezvous In The Bush
---
For a complete listing of all BWJ Articles published since 1987 go to the Article Index.